Last updated on October 11th, 2012
Since our original post 2 years ago on filming, online video has continued to grow exponentially. More and more people have easier access to the Internet – whether it's on a computer or a handheld device.
Filming an interview is a great way to add video to your site. Not only does it provide great, shareable content for your site, it adds overall credibility to your products and services.
But many online and content marketers have yet to adopt online video out of lack of experience, equipment and funds. In other words, you shouldn't be discouraged due to a limited budget – producing online video is undoubtedly much easier than in years past.*
*(See our next post on filming an interview online, which is by far a more cost-effective option and opens you up to literally a world of prospects)
And one other very important development since before – the Google Panda and Penguin updates have made having original & informative content even more important. Video interviews, and subsequent written content, are one of many ways you can position your website for higher rankings in this new environment.
For today though, we wanted to reiterate the steps of a proper in-person interview. However, many of these principles can be applied to interviews filmed online – so they're important to know regardless of how you plan on filming an interview.
What you first need to have of course is someone to interview, or an interviewee. You can find someone just about anywhere – maybe a coworker or the CEO of your company. Or maybe even a client or a prominent figure in your industry who can share their views with your readers.
Once you have someone in mind and they've agreed to the interview, you need to prepare for the actual filming. Continue reading for 9 steps to properly film a video interview to ensure your interview goes as smoothly as possible and accomplishes your goals.
1. Know what your interview is about beforehand
First thing you need to do is develop your questions and send them to the interviewee ahead of time. The interview itself isn't the time to figure out what your story will be about…be prepared for that before you even enter the room.
2. Take a moment and get to know the interviewee before setting up
Before you get your camera equipment out, take a few moments to build a rapport with the interviewee. This will get both of you in a more relaxed state of mind for the interview. If one or both of you are new to interviewing, you will need to calm down before going any further. Let the interviewee see you care about them and are appreciative of their time.
3. Setup camera equipment before they sit down
Wait until you have setup your camera equipment before having the interviewee sit down. Once you've set all of the equipment up, have them sit down to make your final adjustments.
4. Make sure you like where the interviewee is looking
Once your camera is setup and the interviewee is in place, be sure you're okay with where the interviewee is looking. You will want them to maintain eye contact with you so don't stand directly behind the camera but next to it a couple of feet away.
5. Stay in one place
The interviewee will keep looking at you so if you're wandering around, that will look weird on film. Stay in one place and maintain eye contact with the interviewee.
6. Focus your camera closely
A big face in an online video is a good thing…focus your camera closely to get more of the interviewee's face onto the screen.
7. Be aware of your background
Do your best to have a background free of any distractions. Don't have anything going on behind them and check to see how any tall objects like power poles or trees look on the video. You don't want to have your interviewee look like they have tree trunk growing out of their head!
8. Pay close attention to lighting
While you don't want the interviewee to be squinting because of light in their eyes, you don't want to have sunlight or strong light behind them either. This will make it difficult for viewers to see the interviewee. If you're indoors, you may need to move lighting or get a lamp to balance out other light sources in the room.
9. Wear headphones to filter out abstract noises
Any kind of noise can come along and ruin your video. Keep your headphones on to monitor any abstract noises that may come along and ruin your video.
These are a few of the things you need to keep in mind when filming an interview. Below you can see some both good and bad ways to position someone on camera.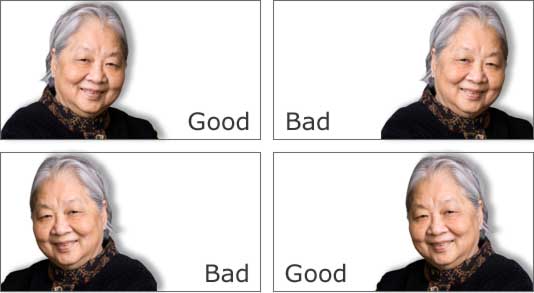 In the end, you can edit the film, post it on YouTube, link to it through your blog and include a short summary of the interview for those who prefer to read (…and to reap some of the advantages of SEO). And you can let the interviewee know when it's up so they can link to it from their blog, giving you another high-quality link to your site.
Again, these steps are for properly filming an in-person interview…many of these steps are the same for one done online but there are some differences worth discussing.
Check back with us again in a few days for tips on filming an interview online.
In the mean time, do you have any interviews you've included on your site?
Did you have a few trial runs before getting a really good one?
Related Posts
In-Person Interview with Leading Industry Expert
Top 10 Ways to Connect your Customers with Good Content
Penguin Update Targets Link Schemes and Low-Quality Content
Making your Content Work for You in Better, More Valuable Ways