Late last year, we announced Google's new personalized search feature and policy. It caused quite a stir in the SEO world since Google users would now have to opt-out rather than opt-in for personalized search results.
For any of us who spend our time trying to obtain high search engine rankings, this surely threw a wrench in the gears. How would we know if our efforts are working if everyone was getting personalized results based on prior searches, their location, etc. In one respect, personalized search is nothing new. Google has returned results based on geographic specific elements for a long time now.
Now that you have to opt-out of personalized search (which most people have no idea about), search results may be slightly skewed. Meaning, if you visited a website, your browser was likely stamped with a 180 day cookie that will highlight any related keywords pertaining to that site. So the next time you do a search using those keywords, the site you visited will appear first rather than one that's more deserving.
While this may not be a problem for most people, SEOs and webmasters like you and me want to see search engine results how they are and not skewed results pages based on some personalization.
So how can I see raw search engine results without personalization?
Keep reading for two ways you can shut off Google personalization in your web browser so you can see the raw results for particular keywords you're targeting.
Option 1 – Add the search operator "&pws=0" to the end of the URL of your search query. Type in the keywords into the search bar like normal then click search. When that results page appears, simply add the above code into the URL bar on your browser. This will return raw results with no personalization.

Option 2 – Scroll down to the bottom of a search engine results page and click the "view customizations" link. Next, click the option to view your keyword search "without these improvements" to remove personalization and any cookies from your browser.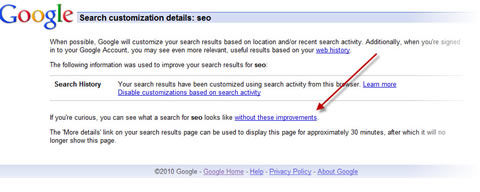 After doing one of two of these, you should be able to see non-personalized results for the keyword in question. Repeat for other searches to obtain raw search results. Unfortunately, there doesn't seem to be any permanent shut-off switch for this feature but if we stumble into one, we'll let you know.
These strategies can help you get the raw deal on how well your search engine optimization efforts are working. Personalized search isn't affecting search results too much, the best we can tell, but shutting it off entirely will certainly give you the best picture on how well your efforts are working.